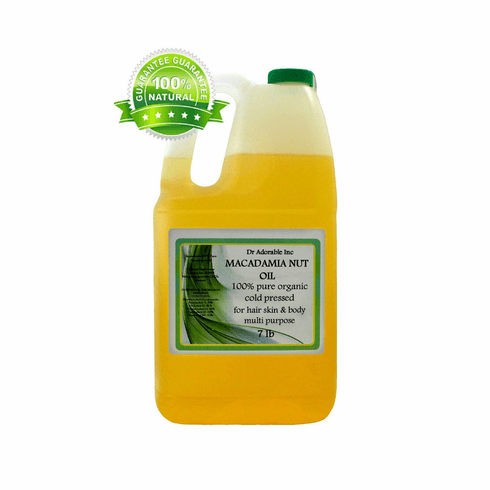 7 LB UNREFINED MACADAMIA NUT OIL COLD PRESSED PURE ORGANIC
All our oils are fresh and bottled daily. Expiration date is at least 12 month from sale date.

ORGANIC MACADAMIA NUT OIL COLD PRESSED PURE METHOD OF EXTRACTION: COLD PRESSED INGREDIENTS: PURE ORGANIC MACADAMIA NUT OIL. NOTHING ELSE THIS OIL SUITABLE FOR FOOD AND COSMETIC PURPOSE SHIPS IN A FOOD GRADE PLASTIC BOTTLES

PRODUCT IDENTIFICATION:

Product Name: Macadamia Organic Carrier Unrefined Oil

Botanical Name: Macadamia integrifolia

Extraction Method: Cold Pressed

Processing Type: Unrefined

Obtained From: Nuts

Origin: Australia

Description: It is high in mono-unsaturated fatty acids, and contains palmitoleic acid (promotes soft skin), as well as omega-3 and omega-6 fatty acids. It is popular as an emollient in skin and hair-care products, as well as tanning oils and lotions.

Color: is a clear to lighter golden/yellowish color.

Aromatic Description: mild characteristic odor.

Common Uses: Macadamia Carrier Oil is popular in cosmetic manufacturing and in combination with other carrier oils, can be used in both massage and aromatherapy.

Consistency: Characteristic of most carrier oils. Skin Benefits of Macadamia Nut Oil

Macadamia nut oil is a lightweight oil, that is well absorbed without feeling greasy. Itís high in monounsaturated fatty acids, including Oleic Acid (Omega 9), which are very moisturising, regenerating and softening on the skin. These fatty acids also have anti-inflammatory properties. The Linoleic Acid (Omega 6) in Macadamia nut oil helps to restore the skinís barrier function and reduce water loss. Macadamia nut oil also contains Palmitoleic Acid (Omega 7), an active anti-microbial that is found naturally in youthful skin. Palmitoleic Acid (Omega 7) levels in our skin reduce with age, contributing to the appearance of fine lines, wrinkles and weathered skin. Macadamia nut oil has been shown to slow the signs of ageing and has also been used to improve the appearance of scars, sunburn and other minor skin irritations.